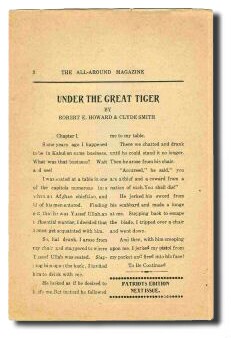 There's a rare Robert E. Howard publication being auctioned on eBay. From the description:
Here is an original copy of an extremely rare item, the All-Around Magazine, printed by Tevis Clyde Smith on a hand printer given to him by his parents. (Little handmade "boys' magazines" were popular at the time. We have an extensive collection.) The whole run of "Volume 1"–which includes number 1, number 2, the combined number 3 and 4, and number 5–is included in the sale. (That's four issues in all.) I believe this one "volume" is the whole extent of the All-Around that was ever produced. In the combined number 3 and 4 is the beginning of "Under the Great Tiger," cowritten by Smith and Howard; the story is finished in number 5. This item comes from the estate of T. C. Smith; except for two copies that the estate has sold to private collectors, the All-Around exists nowhere else (to the best of my knowledge). The cheap paper is naturally yellowed and brittle, and a bit frayed on some edges, but un-torn. A fragile bit of rare ephemera, and an indispensable addition to the serious Howard-Smith collection.
This is basically a one-of-a-kind item, it is doubtful any more copies of this mag still exist. It will be interesting to see how much money it ends up going for. The seller has many more items relating to Tevis Clyde Smith at his eBay store.