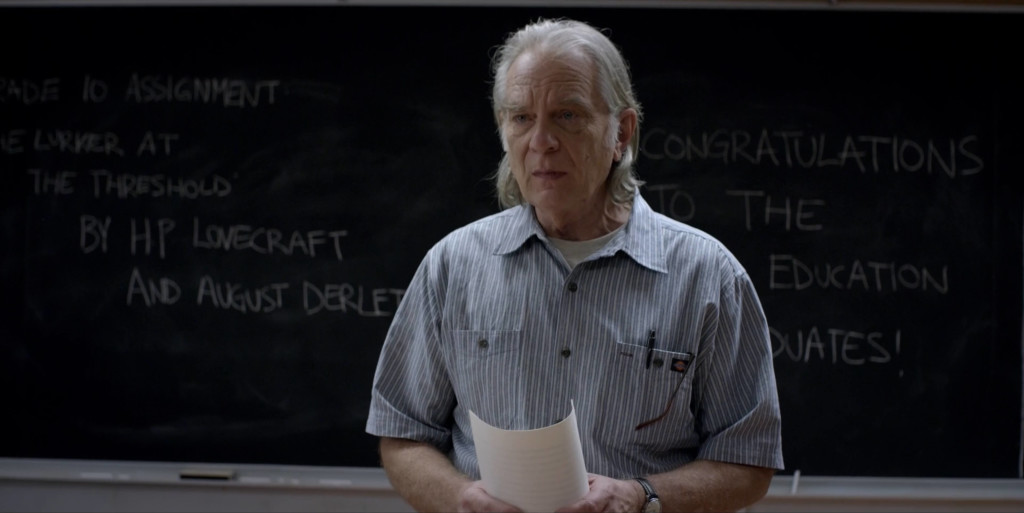 "There is probably no dedicated fantasy fan in America who doesn't have at least one of those distinctive black-bound volumes upon his or her shelf . . . and probably in a high place of honor." — Stephen King, writing in Danse Macabre on Arkham House
Ken Tucker posted a blog on February 15, reviewing a TV adaptation of 11/22/63, the bestselling Stephen King novel published in 2011, about the assassination of President John F. Kennedy.
The first in this series of eight episodes is already streaming across Hulu, and Tucker points out that it is "filled with small touches that will appeal to hardcore Kingians."
Tucker's example of one of these touches caught my attention. According to Tucker, Stephen King's time-travelling protagonist is by trade a teacher, so it wasn't surprising when he alluded to a scene with a schoolroom chalkboard.
What did surprise me is what Tucker claimed can be read on the board — a reading list that includes August Derleth's The Lurker at the Threshold!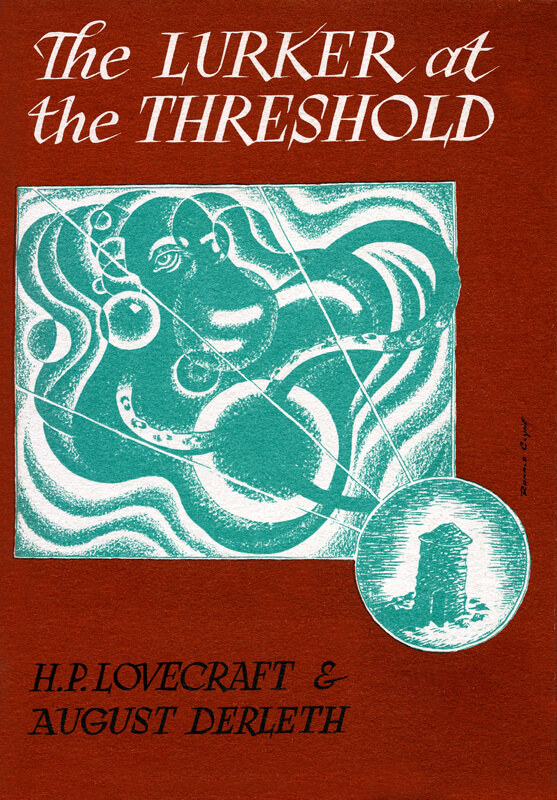 For those not hardcore, The Lurker of the Threshold is the first full-length Cthulhu Mythos novel that was ever written.
Published in 1945 by Arkham House, the announcement in the company Stock List insists Derleth "wove" Lurker out of "certain notes and fragments" (all unrelated) that were left behind by the twentieth century's dark and baroque prince of horror fiction, H. P. Lovecraft. (Derleth wrote the Arkham blurbs too, which helps explain why the Stock List catalogs and brochures still exist, treasured and often collected along with the classic Arkham House books!)
It was because of these notes, and a small outline which also turned up, that Derleth — despite doing the writing himself — bylined Lurker with "H. P. Lovecraft and August Derleth."
To be fair, Lurker does incorporate many of Lovecraft's unique concepts, which Derleth sought to credit. The novel was something of an experiment, with hopes of fueling general interest in HPL. Tongue-in-cheek, Derleth began referring to Lurker as a "posthumous collaboration."
Derleth's novel has rarely been out of print, and is easily found today in a wide array of formats and editions. Unfortunately, it led to decades of confusion — no one looks back and thinks Derleth made a good decision marketing Lurker, especially when he tied it so intimately to Lovecraft.
Perhaps mentioning the blackboard note sans "H. P. Lovecraft" is Tucker's way of seeding a correction.
Or is it King?
With all of the King I do read, I haven't yet managed 11/22/63. But my publisher Leo Grin did, who says the reference to Derleth is not in the book. No matter. Hulu's TV version is co-produced by Bridget Carpenter, J.J. Abrams, and Bryan Burk (in addition to King) — any one of them might have augmented the reading list, and they're all influential people.
That being said, I still suspect King.
That's because Stephen King has always given Derleth some due.
As early as 1982, speaking in Danse Macabre about horror in fiction in the 1940s, he relates how "Arkham House had then been founded by the late August Derleth, and Arkham published what I regard as its most important works in the period 1939-1950 — works including … Ray Bradbury's Dark Carnival, a marvelous and terrifying collection of a darker world just beyond the threshold of this one."
And there's that "threshold" word again. Reminding me of the Stephen King novel I did read recently, titled Revival.
The author makes no bones about Revival being a celebration of the Welsh fabulist, Arthur Machen. But then King dedicates the book to the whole circle of his early influences in the field.
That's where we find August Derleth again—who was on the threshold, so to speak:
This book is for some of the people who built my house:

Mary Shelley
Bram Stoker
H. P. Lovecraft
Clark Ashton Smith
Donald Wandrei
Fritz Leiber
August Derleth
Shirley Jackson
Robert Bloch
Peter Straub
I found it good to be finding Derleth's name in such revered company, placed there by a king in the field. If asked to list those who've haunted me best, before the era of Stephen King himself, I might set down this exact list.
---
John D. Haefele is the world's undisputed expert on August Derleth. His epic history A Look Behind the Derleth Mythos: Origins of the Cthulhu Mythos, published by The Cimmerian Press and available in both print and eBook editions, represents the new gold standard in scholarship about the classic imprint Arkham House and the literary era that so captivated Stephen King in his youth. Haefele is currently working on an equally monumental survey of Lovecraft's Great Tales.